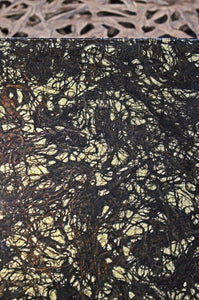 Hand-made barkskin lace laminated in glass over opaque champagne sparkle background. Natural wood fibers are turned into weaved sheets by hand and dyed in various colors with each piece displaying its uniqueness and intricacy.
Made to size with factory edge finish and notches, if required.
Annealed or tempered Ultra Clear (Low Iron) glass.
Thickness/ OrganicA™ Laminated Glass: 5/16" - 3/4".
Size: up to 46" x 94"
Samples are available for registered A&D customers.
Email us with your project requirements.