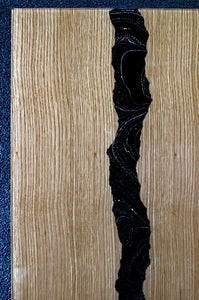 Glass laminated genuine wood veneer with handmade marble paper decorative inlay (Rift White Oak Pictured).
Custom design with your choice of wood specie, either dyed or natural.
Moisture resistant. Suitable for backsplash and powder room projects.

OrganicA™ aluminum backed laminated glass wood veneer panels are available for wall and furniture finish.

Annealed or tempered Ultra Clear (Low Iron) glass.
Made to size with factory edge finish and notches, if required.
Thickness/ 

OrganicA™ laminated glass (aluminum rear surface): 3/16" - 3/4".

Thickness/ regular laminated glass: 5/16" - 1" or up to 2" multi-layered.
Size: up to 48" x 120"
Samples are available for registered A&D customers.
Email us your project requirements.