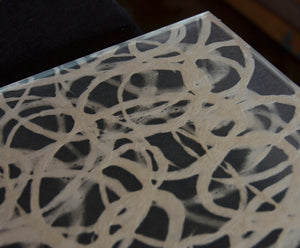 Glass laminated Ring Chain hand-made Japanese washi rice paper.
Suitable for glass stair treads and flooring in triple layered glass construction.
Made to size with factory edge finish and notches, if required.
Annealed or tempered Ultra Clear (Low Iron) glass.
Thickness/ regular laminated glass: 5/16" - 1" or up to 2" multi-layered.
Size: up to 48" x 128"
Samples are available for registered A&D customers.
Email us with your project requirements.