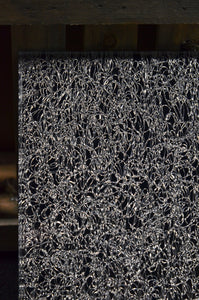 PRODUCT HIGHLIGHTS:
*Please review instructions below for Trim-To-Size Orders
Glass Type:

 

Shatter-Resistant Single-Ply Laminated Glass
Nominal Thickness: 5/16"
Glass Front Thickness: 1/4"
Glass Front Clarity: Low Iron Annealed
Back: Corrosion Resistant Aluminum,

SUITABLE

for Adhesion
Opacity: Opaque
Color:

 Silver Metallic Over Black

Interlayer: Custom Spun Metallic Mesh
SELECT "TRIM-TO-SIZE" PANEL AND WE WILL CUT TO YOUR SPECIFICATION (LIMITED TO ONE CUT-TO-SIZE PIECE PER PURCHASED PANEL). Please make sure your required panel size fits our panel size offering and provide each item's exact dimensions in your cart's notes.
Size Tolerance: 0/ -1/16"
FLAT RATE SHIPPING WITHIN CONTIGUOUS US.
MADE IN BROOKLYN